The basic responsibility for a student's appearance while attending school is with the student and his/her parent or guardian.  It is reasonable to expect parents to ensure their children are dressed in clean, appropriate clothing.  Our school's general principle concerning student dress is that a student's clothing must be conducive to learning and be safe to wear.
At Uplands Park Elementary the following are general guidelines for student dress, but are not necessarily limited to the following.
Dress for the weather of the given day
Footwear must be worn at all times and must be considered safe to wear in case of hurried emergency exits from the school
Clothing should appropriately cover the body from the shoulder to the mid-thigh

Clothing must not be a source of distraction
"tops" must meet "bottoms", i.e. no underwear showing, bare midriffs or suggestive clothing please
logo clothing must be inoffensive, i.e. no references mentioning drugs, alcohol, sexual activity or statements which would be offensive to individuals or groups of individuals

Hats or head coverings (unless of religious significance) are considered outside wear only.
Students who wear inappropriate clothing will be sent home to change into acceptable attire.  Parents will be contacted.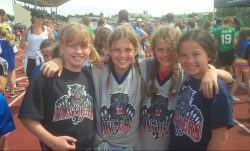 Skateboards, Bikes & Scooters
Students are welcome to bring "wheels" to school.  This is a reminder students are not to rid bikes, skateboards, etc. on any school district property before or after school (8 a.m. – 4 p.m.).  It is to ensure all students and all family members – big and small are safe.